Them,Us,We
Photographic prints, HD video, custom newsprint, bauxite dust
3030 x 6150 mm
2018
Exbited at the group exhibition Effectuate, Dublin, Ireland August 2018
Them,Us,We is a mixed media installation that displays the ramifications of international actions and how they can scale to the local sphere and ultimately manifest on a national level.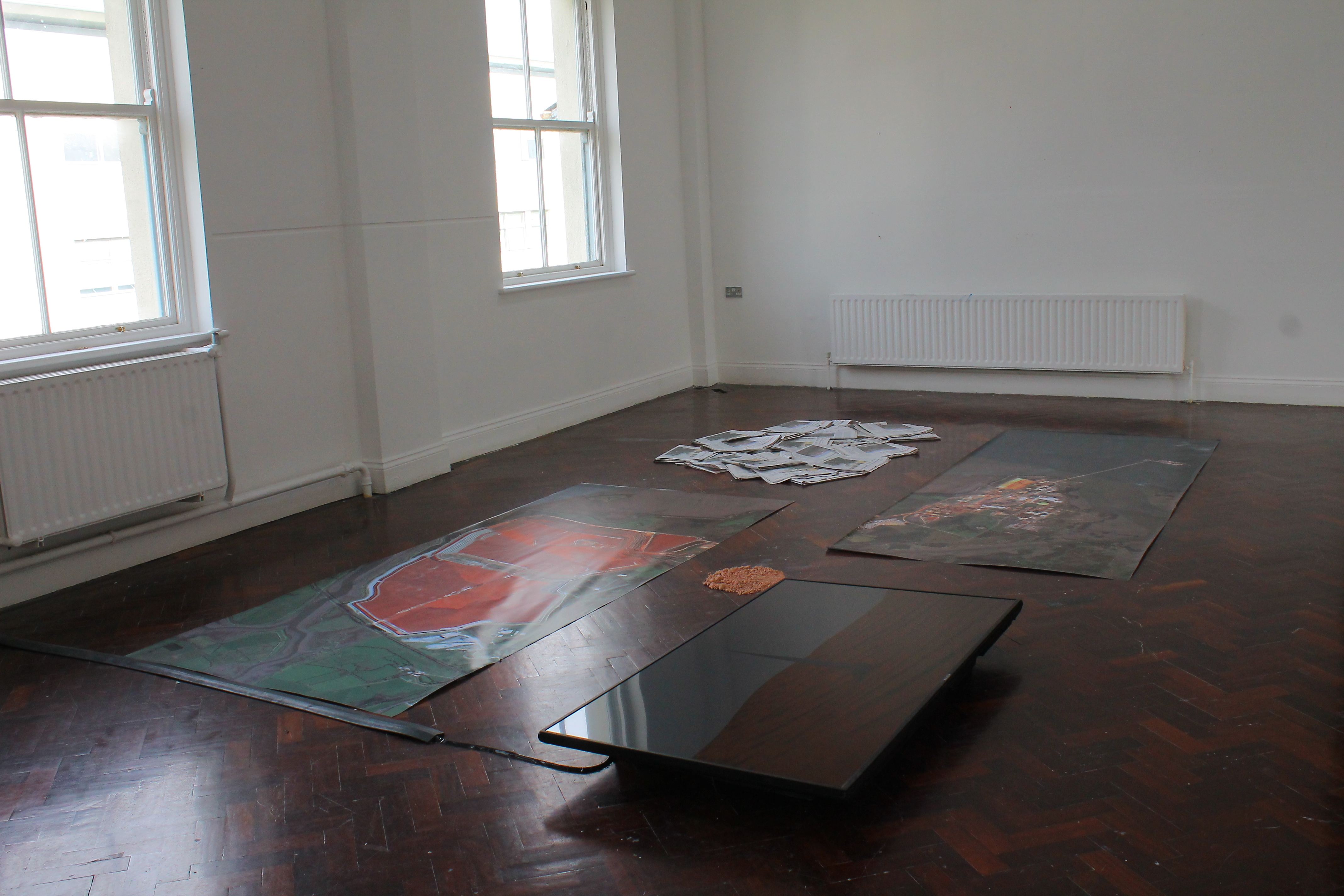 Them,Us,We is formed around the bauxite processing site, Rusal Aughinish Alumina, a Russian owned company based in Askeaton, Co. Limerick, Ireland. Rusal Aughinish Alumina is Europe's largest bauxite refinery. The site includes a deep-water jetty in the Shannon, through which the refinery imports bauxite from Guinea and Brazil and exports alumina to be refined into aluminium metal.During this process the bauxite ore is refined to produce aluminium oxide and bauxite dust. This dust is produced in such vast quantities that it covers an area of 2.13km. on site in Askeaton. As a result of past complaints by locals and farmers, workers must regularly spray the bauxite dust with water to ensure that it stay in mud form and does not blow into nearby areas.
Due to United States trade sanctions introduced in April 2018 targeting Russian individuals and businesses including Russian billionaire Oleg Deripaska, the majority shareholder in EN+ Group which in turn owns 48 per cent of Rusal, the jobs of 450 staff and another 220 contractors in the rural community who are employed by Rusal Aughinish Alumina are at a risk of being terminated.


Through the potential abandonment of the site in Askeaton, and the lack of constant irrigation, the bauxite mud will begin to dry and gradually dehydrate into dust. Due to strong westerly winds coming across the Atlantic a weather phenomenon called Saharan dust will occur.This is where dust or sand can be scattered and deposited over a wide area due to strong winds whipping up the particles into the higher atmosphere where it is eventually deposited by rain, the rain e

vaporates and the dust remains.Ireland saw this phenomenon in 2014 when sand from the Saharan desert was deposited through out the country. The mass unemployment will result in the lack of proper maintenance of the site and will see the whole of Ireland covered in a coat of red bauxite dust.